In some cases, the Install VMware Tools option is greyed out and you cannot install the tools for the virtual machine. In this case, we cannot install the VMware Tools on our Windows Server 2012 virtual machine.
When the VMware Tools isn't installed. the VM screen gets smaller, and you cannot copy/paste between VM and the physical machine. Drag/ drop and shared folder features also not working.
Fix the Install VMware Tools Greyed out
1️⃣ First, right click on the VM tab then power off the virtual machine that you want to install VMware Tools.
2️⃣ When the VM is not running, let's edit virtual machine settings.
3️⃣ In the virtual machine settings page, select the Floppy then remove it. Click OK to save the changes then turn on the virtual machine.
Note
You get it because you install this VM in typical auto mode instead of custom mode.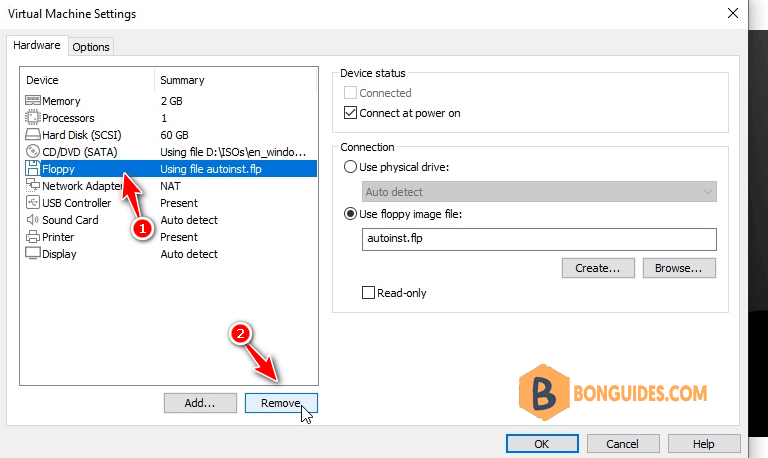 4️⃣ Once the VM started, as you can see, you can install the VMware Tools normally.
Install the VMware Tools manually
In some cases, after remove the Floppy drive from the VM, the Install VMware Tools still greyed out. You can try to install the VMware Tools manually.
1️⃣ Right click on the VM tab > Removeable Devices > CD/DVD (SATA) > Settings…
2️⃣ In the VM settings page, select CD/DVD > Select the checkboxes > Select the radio button Use ISO image file > Then click Browse… button.
3️⃣ Navigate to the installation location of VMware Workstation then select the file named windows.iso (Disk Image File). This is the VMware Tools for Windows.
C:\Program Files (x86)\VMware\VMware Workstation
4️⃣ Click OK, then go back to the VM. The file would be mounted into the VM automatically. From here, you can install the VMware Tools as normal.
Once the tools have been installed, restart the VM. You can check the VMware Tools Services from the VM Windows taskbar (see the below screenshot).