Add-AppxPackage : Deployment failed with HRESULT: 0x80073CF3, Package failed updates, dependency or conflict
validation.
Windows cannot install package Microsoft.DesktopAppInstaller_1.18.2091.0_x64__8wekyb3d8bbwe because this package
depends on a framework that could not be found. Provide the framework "Microsoft.VCLibs.140.00.UWPDesktop" published
by "CN=Microsoft Corporation, O=Microsoft Corporation, L=Redmond, S=Washington, C=US", with neutral or x64 processor
architecture and minimum version 14.0.30704.0, along with this package to install. The frameworks with name
"Microsoft.VCLibs.140.00.UWPDesktop" currently installed
Windows cannot install package Microsoft.DesktopAppInstaller_1.18.2091.0_x64__8wekyb3d8bbwe because this package
depends on a framework that could not be found. Provide the framework "Microsoft.VCLibs.140.00.UWPDesktop" published
by "CN=Microsoft Corporation, O=Microsoft Corporation, L=Redmond, S=Washington, C=US", with neutral or x64 processor
architecture and minimum version 14.0.30704.0, along with this package to install. The frameworks with name
"Microsoft.VCLibs.140.00.UWPDesktop" currently installed are: {}
NOTE: For additional information, look for [ActivityId] ef6e167a-d3da-0001-6421-6eefdad3d801 in the Event Log or use
the command line Get-AppPackageLog -ActivityID ef6e167a-d3da-0001-6421-6eefdad3d801
At line:1 char:1
+ Add-AppxPackage .\Microsoft.DesktopAppInstaller_8wekyb3d8bbwe.msixbun ...
+ ~~~~~~~~~~~~~~~~~~~~~~~~~~~~~~~~~~~~~~~~~~~~~~~~~~~~~~~~~~~~~~~~~~~~~
    + CategoryInfo          : WriteError: (C:\Temp\Microso...bbwe.msixbundle:String) [Add-AppxPackage], IOException
    + FullyQualifiedErrorId : DeploymentError,Microsoft.Windows.Appx.PackageManager.Commands.AddAppxPackageCommand
Download desktop framework
Right click on the link then copy link address depending on your Windows architecture. In this post, we'll install the desktop framework for Windows 64bit.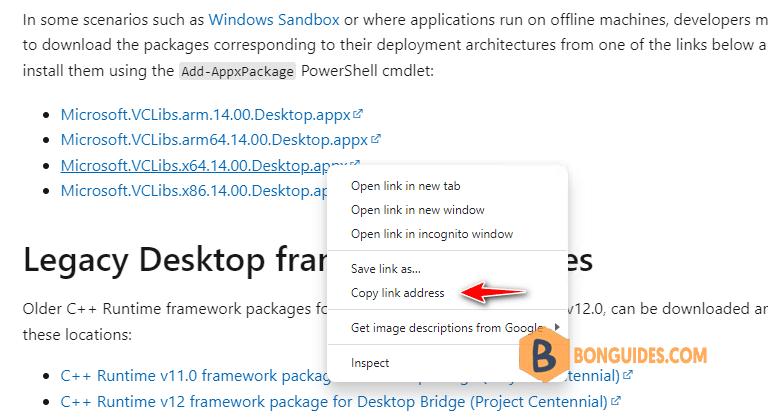 Or you can copy the links from this list:
Install desktop framework
1. Right click on the Windows start icon then open Windows PowerShell Admin or Windows Terminal Admin in Windows 11.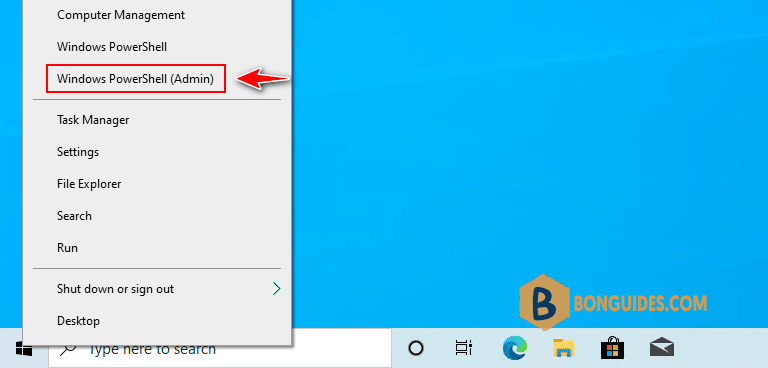 2. Run the following command to install desktop framework. For example, i'll install using the link for amdx64:
Add-AppxPackage 'https://aka.ms/Microsoft.VCLibs.x64.14.00.Desktop.appx'
3. Once done, you can run Get-AppxPackage command to verify the app was installed.
PS C:\> Get-AppxPackage -Name "Microsoft.VC*" | Select Name, Architecture, Version | FT

Name                               Architecture Version
----                               ------------ -------
Microsoft.VCLibs.140.00                     X64 14.0.27323.0
Microsoft.VCLibs.140.00                     X86 14.0.30704.0
Finally, run the command to install Windows Package Manager again, then the error should be gone.
PS C:\ Add-AppxPackage .\Microsoft.DesktopAppInstaller_8wekyb3d8bbwe.msixbundle
PS C:\> Get-AppxPackage -Name "Microsoft.Desktop*" | Select Name, Architecture, Version | FT

Name                          Architecture Version
----                          ------------ -------
Microsoft.DesktopAppInstaller          X64 1.18.2091.0